A company's corporate headquarters represents the heartbeat of the business, and a high-quality, reliable and efficient HVAC system is essential to maintaining productivity for that facility. United Maintenance, Inc. has decades of proven experience in providing quality heating and cooling systems for corporate campuses, and we can design and build a system to suit any facility, regardless of space, size, number of buildings or budgetary requirements.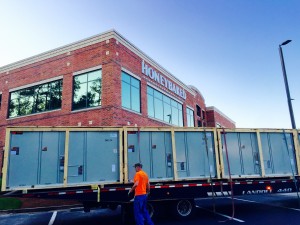 Special HVAC needs of corporate campuses

In many ways, a corporate campus often functions as its own enclosed village, with different parts of the campus serving a variety of functions, from offices to mailroom to shipping/receiving to cafeteria space. Some headquarters are self-contained in one large structure, while others sprawl over acres of multiple buildings, often controlled by a central network. Some facilities require many different temperature zones with independent heating and cooling schedules, and campuses that maintain a 24-7 schedule require constant temperature regulation. Additionally, any facility that houses a large number of people needs effective filtering and air quality control to protect its employees from increased exposure to airborne pathogens. Finally, with any large campus consuming large amounts of energy, it's critical that an HVAC system be designed to high efficiency standards in order to keep energy costs within budget.
How we meet the need

At UMI, we are particularly aware of the diverse needs of our corporate clients, and our engineers are up to the task of designing a comprehensive system to meet all those needs effectively. We will work with you to assess your current infrastructure and energy consumption, identify problem areas both structurally and functionally, and devise a solution to match the need. We can equip an unlimited number of buildings with any number of different temperature zones, and we can install state-of-the-art centralized controls to keep those zones under your command at all times. Our EPA-certified technicians can help your campus achieve the strictest indoor air quality standards as prescribed by ASHRAE and OSHA, and we can even bring your facility up to LEED certification, if necessary. And to keep your HVAC system running as efficiently as possible (and for as long as possible), we offer many plans for ongoing monitoring and maintenance after installation is complete.
Whether you are retrofitting and upgrading your current HVAC system, employing a complete redesign of your infrastructure, or building a new corporate campus from the ground up, United Maintenance has the skills and expertise to ensure your system is designed, built and installed to your specifications, done right the first time.