Cleanrooms come in all shapes and sizes and as such a variety of materials is often necessary. Most of the time the wall, ceiling, and floor materials are determined by economics, however, keep in mind that certain process chemicals and gases, cleaning agents and acids react differently to certain substrates. Consult your MSDS for more specific information.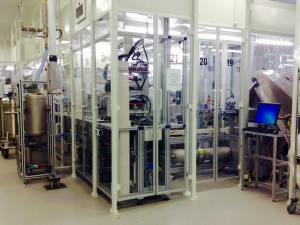 Flooring options include: solid heat seam-welded vinyl, self-leveling epoxy, tile floors and conductive raised access flooring.
Wall Materials can be aluminum, vinyl hardboard, painted steel, stainless steel, PVC, and epoxy painted sheetrock.
Grid Systems may be PVC or anodized aluminum, range from 1″, 1.5″ or 2″ wide. The seal may be a gasket of low-off gassing cellular urethane, low VOC material, neoprene, polyethylene, antibacterial, or fire retardant. 2″ wet-seal grid systems are also available used knife edge ceiling tiles and filters.
Ceiling Tiles may be vinyl hardboard with sealed edges, aluminum, steel or PVC.
Lighting may be provided using 2′ x 4′ troffers, tear drop light fixtures, integrated flow thru light troffers, yellow lenses and a variety of bulbs.
Filters are either HEPA or ULPA, efficiencies ranging from 99.97% efficient at 0.5 microns to 99.99995% at 0.12 microns. Depending on the mechanical design, Terminal diffusers or Fan Filter Modules may be used. Other options include gaskets downstream, room-side replaceable filter housing, and size.
Ionization is used for critical environments where static charge is a concern, emitting positive and negative ions into the space neutralizing the surface area. Systems range from complete room ionization using ceiling emitters to more localized blowers and fans. Installation and certification are included on all room ionization packages.
Particle Counting Systems may be as simple as a portable particle counter to larger machines with remote sensors monitoring particle size, matter, and frequency. Most sytems are programmable or come with computer software that can create graphes and charts for display.
Cleanroom Certification is assurance that your cleanroom meets spec and provides your customers with confidence of the manufacturing environment.
Air Showers are used to gain entry into cleanrooms blowing filtered air on and around the person to remove any surface contaminants before entering the clean space.
Pass Thrus are small airtight enclosures in the wall used to pass sensitive material from one room to another without being contaminated.
For your cleanrooms Atlanta or cleanrooms Nationwide needs please email Steve Roman or call 770-455-1656.