While many commercial, industrial and government clients call on United Maintenance for their HVAC system design and installation, many more also rely on us for their service and maintenance needs. As trusted experts in commercial and industrial heating and cooling for more than forty years, we are well versed in the many different types of systems and configurations, regardless of manufacturer or age of the system. From system monitoring to ongoing maintenance and repair, UMI can ensure your system is running efficiently and trouble-free for many years to come.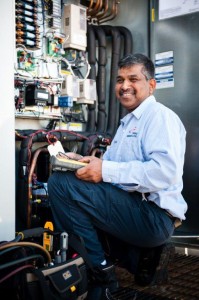 We service what we sell

When we design and build an HVAC system—or even if we retrofit an existing one—we stand behind our work. Beyond our standard warranties, according to our customers' needs and budgets, we can offer regular monitoring and maintenance plans to keep your system running at its best.
We service what we don't sell

Is your current HVAC system sufficient for your facility's needs? No problem: even if we didn't install your system, we offer maintenance and repair services to help keep things running smoothly and to preserve the longevity of your current system. If something needs to be upgraded, repaired or replaced, we'll let you know.
Preventative maintenance contracts

If you just want your HVAC system to work without having to think about it, a preventative maintenance contract is your best option. United Maintenance offers customized plans that can include ongoing monitoring, regular maintenance visits and repairs as needed, so your system runs efficiently in the background while you get on with the business at hand. Not only does this extend the life of your HVAC system, but it also affords you peace of mind knowing your heating/cooling system is in good hands.