If your business or organization requires one or more cleanrooms, it's critical to have an HVAC system that regulates the interior environment while maintaining the highest standards of air quality. With our many years of cleanroom experience, United Maintenance, Inc. has the expertise to design and build cleanrooms to the most stringent standards within any structure or application.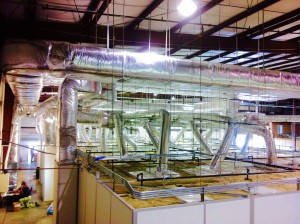 Special needs of cleanrooms
A cleanroom is basically any environmentally controlled space that is virtually free of environmental pollutants such as dust, airborne allergens, microbes or chemical vapors, as measured in particles per cubic meter. There are various classifications of cleanrooms, depending on the application and how pollutant-free the air must be. Cleanrooms are required in many research applications such as biotechnology, medical and pharmaceutical, as well as in the manufacture of sensitive electronic or computer equipment, semiconductors and aerospace equipment. Cleanrooms require a specialized system of airflow, filtering and even wall materials to keep the air quality at the prescribed standards. In many applications, humidity and static electricity control may also need to be regulated.
How we meet the need
UMI engineers and technicians are longtime experts in designing, building and installing custom cleanrooms to any classification or standard our clients require, implementing a combination of quality HEPA and/or ULPA filtering with state-of-the-art airflow technology to keep the interior comfortable and contaminant free. For rooms that require it, we can integrate ionization and dehumidification components into the system to regulate moisture and static electricity within the space. We can design and build softwall cleanrooms for smaller spaces; we can install modular cleanrooms for larger applications that may require modification and expansion; and for more permanent applications or large spaces, we can create a built-in-place cleanroom to accommodate any amount of equipment or any number of employees. All our cleanrooms are designed to meet FS209e and ISO Standard 1446 designations, and we also install state-of-the-art particle counting systems to ensure the air quality remains at the required standards.
For our customers who require it, there is no room for error when it comes to designing and installing cleanrooms. Whether you are constructing a new cleanroom from the ground up or modifying/expanding your existing one, United Maintenance has the technology and expertise to ensure the job is done right the first time.