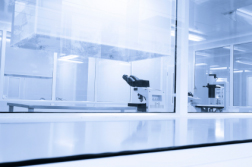 This is a medical device company that has developed and is commercializing a proprietary wireless sensing and communication technology for the human body. Due to their small size, durability, and lack of wires and batteries, their sensors are designed to be permanently implanted into the cardiovascular system.
This project required design / build capabilities and consisted of  Class 100, Class 1,000, Class 10,000, and Class 100,000 Clean Rooms with temperature and humidity control, as well as office and support labs and facilities.
Designed and installed complete system including: 
Constant volume air valves
Chilled water piping
Hot water piping
DDC control system
High purity gas piping
For your cleanrooms Atlanta or cleanrooms Nationwide needs please call 770-455-1656.