When it comes to commercial/industrial HVAC systems, one size, type or buildout definitely does not fit all. The engineering team at United Maintenance, Inc. is committed to assessing the particular needs of your facility, and custom designing and constructing a system that yields maximum results while minimizing the cost of performance. From concept to completion, UMI specializes in getting it right the first time.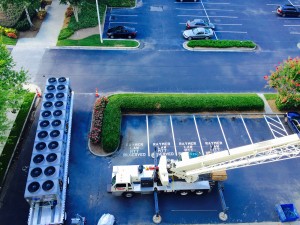 Pre-Construction Stage

In designing HVAC solutions, careful planning and modeling are the keys to success. We conduct a comprehensive assessment of your building's space and structure, discuss the specific climate control needs of your business, and look at your budgetary requirements. Then using state-of-the-art techniques and modeling technologies, BMI engineers assimilate the data to design a customized system that meets your company's needs with the best possible cost/benefit yield. During this planning stage, we also work out a logistical plan for the installation based on your building type and your company's needs—for example, whether to build/assemble components on-site or off-site, or if units need to be constructed within certain rooms. Whatever the situation calls for, pre-planning gives us the flexibility and experience to get the job done quickly, efficiently, and with as little impact to your productivity as possible.
During Construction and Installation

If there's one thing four decades of experience have taught us, it's to expect the unexpected. During installation, issues can arise that even the best-laid plans can't account for. That's why our engineering team remains deeply involved in the process during the actual construction and installation of your HVAC system, not only to make sure our execution matches our planning, but also to anticipate and make adjustments when unexpected problems arise. Our ability to anticipate and adapt in this manner has given us a reputation as expert problem-solvers, devising creative solutions where others fail.